June 14th, 2013 | Add a Comment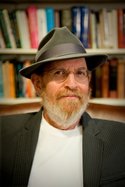 I am so grateful to and for the entire staff of Beit T'Shuvah. They work hard to help themselves and others LIVE WELL! They show up, live Authentically, Responsibly and Transparently. They are all Masters of ARTfull living.
We are blessed with a great cadre of volunteers also. All of you tirelessly and completely dedicate yourselves to helping all of Beit T'Shuvah LIVE WELL. You help us all find passion and purpose in daily living. Thank you so very much.
This week's Parsha is TeZaveh. This translates to you will command. This Parsha has the details of the making of the clothing of the High Priest, Aaron, and the Priestly garments for his sons. What struck me this year is God instructing us as to the investiture of Aaron and his sons. We are told that Aaron and his sons must bring a bull and a Ram to the investiture. In reading the Parsha, we are told the Bull is a Hatat/missing the mark offering. It is so beautiful to me.
Aaron and his sons have to acknowledge that they have made mistakes before being invested into the Priesthood. We know that they have erred and will err. Yet, this is so contrary to how we see our Spiritual Leaders today (or want to). No one is perfect, according to our Holy Tradition. The first act, actually the act prior to being invested into the Priesthood, is to acknowledge humanness and human fallibility.
Are you still expecting/demanding perfection from your Spiritual Leaders? Are you still expecting/demanding perfection from yourself? Are you still expecting/ demanding perfection from family, friends and employees/ co-workers/employers?
This beginning reminds me of my own imperfections. Study, mastery of a subject, a degree do not confer expertise and perfection on me or anyone else. We all get it right some time and we all miss the mark sometime. We have become a society obsessed with getting it right all the time, and our Torah is teaching us that this is impossible. Yet, we forget this and don't want to deal with our errors and the errors of others with Truth, Justice, Compassion, Kindness and Love! Why not?
To deal with our errors in these ways makes us more responsible to live a life of being human, and we all want to be God, maybe. Getting it "right" takes a lot of trial and error. We want to hold others, and, in fairness, ourselves to some ridiculous standard of perfection because we are afraid to face our authentic broken selves. This description of the beginning of the Investiture of the High Priest teaches me, all of my colleagues, and everyone that authenticity, Truth, Justice, Love, Kindness and Compassion are the most important ingredients to living well.
How can you practice being human more this week, this year?
Shabbat Shalom,
Rabbi Mark
Related posts:
Filed under: Featured, Messages From Rabbi